Maine Bear Hunting Outfitters | Guided Maine Bear Hunts with Hounds
Maine's Premier Big Game Outfitter, Black bear hunting at Spaulding Lake Outfitters is an adventure and a hunt of a lifetime. We hunt exclusive territory to us of 150,000 acres or 234 square miles of Northern Maine premier black bear hunting wilderness. Spaulding Lake Outfitters believes in the supply of quality black bear bait at our sites. We do not feed unsanitary bait to the bears, we only feed pastry bait or granola with molasses, trail mix, cookies, and grain We invest in top quality bait. We also monitor our black bear sites with game cameras so we can determine which of our sites are producing quality Maine black bear and the times of the day the black bears are visiting our bait sites. Most of the big trophy Maine black bear arrive at the bait sites at the very last shooting light, meaning a trophy black bear hunter will need to stay in the stand until after legal shooting time is up.
We keep our Maine bear hunting pressure low with limited hunters to ensure successful hunts. We have many options with the number of bait sites we maintain. We offer bear over bait hunting late August through mid-September, and hound hunting mid-September through the end of October. Hound hunting is a very exciting way to harvest a Maine Black Bear during peak foliage season.
We pride ourselves on team values, we are a team at Spaulding Lake Outfitters, and we will include you onto our team. You will come as a client, but you will leave as a friend. We will involve you in our daily operations, our guides will ask you to come with us every morning to help check bait sites we are not hunting that week, help us lug in bait see the country we call home, we want each and every hunter to see the work, to see the passion we put into our work here at Spaulding Lake Outfitters.
GUIDES: Where do I start, when I started Spaulding Lake Outfitters, I had a dream about being the best in the business, after working for other outfitters or guides in the state of Maine, I learned, and I listened, what I was seeing is short cuts, rude behavior, lack of loyalty, no organization, uncleanly camps and facilities etc. etc.
As in any successful business the employee makes the difference!!! Our guides and staff are the best this is why we at Spaulding Lake Outfitters are "PREMIER" from the minute you arrive your guide will take care of you he or she will treat you like family, they will ask about your life they will become your friend. And most of all we have passion and heart about what we do!!!!
Lodge: 207-841-0508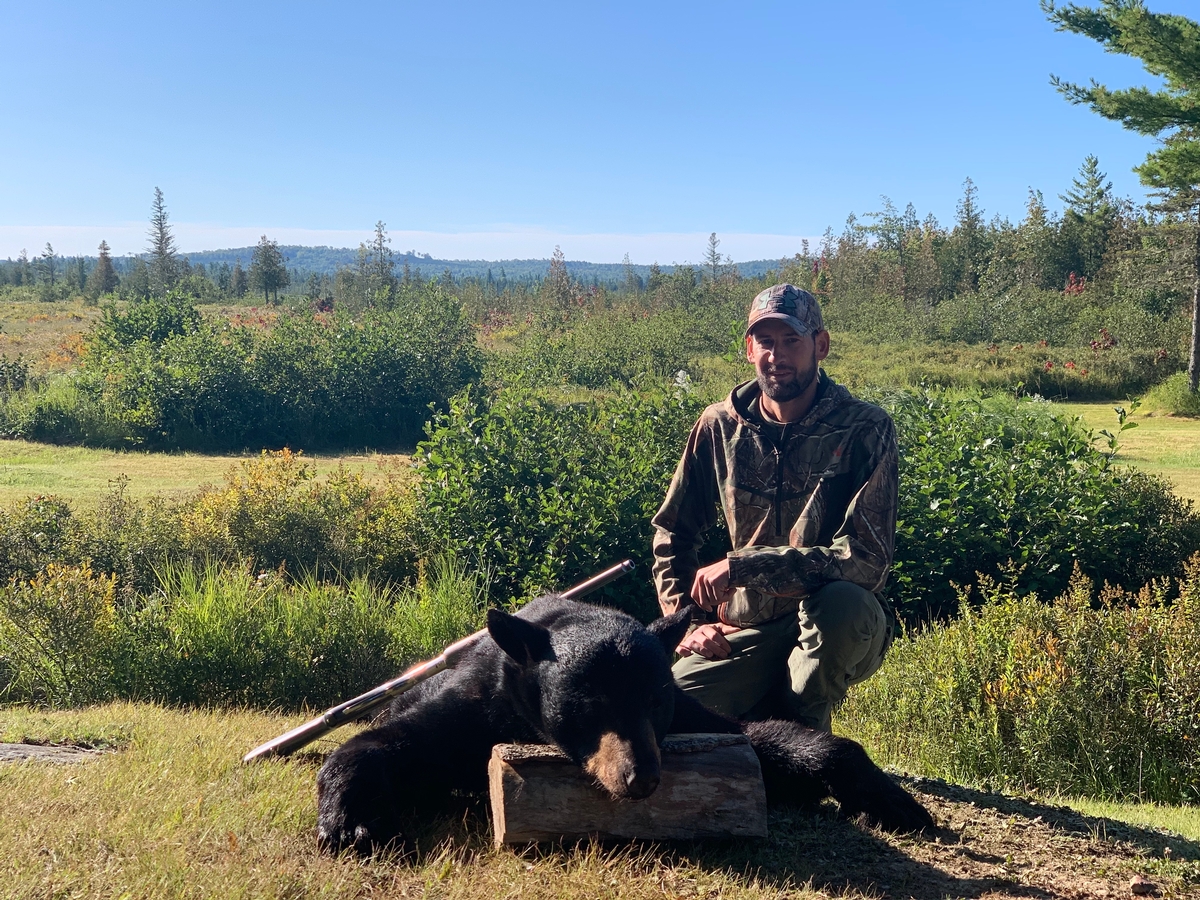 2023 Maine Bear Hunting Season
Our Maine black bear hunting season for TBD 2024 starts as soon as the logging roads are dried up from our long spring, we take the time to visit each and every bait site clearing fallen trees from the harsh winter. The last Saturday in July is when Spaulding Lake Outfitters can start putting our quality bait out at our predetermined site locations. Prior to August 1st we are brushing out our sites preparing for the upcoming black bear season, cleaning up deadfall trees or branches that have fallen over in the winter are part of our pre bait routine. During the month of August Spaulding Lake Outfitters will feed our black bears an abundance of pastries and attractants to get the bears in our area, and in surrounding areas to funnel to our bait sites. Maine black bear are like humans, they will go and frequent where the meals are the best and they will keep returning there.
Our hunting season for Maine black bear will start on TBD 2024, and hunting over bait season will run until September TBD 2024 which is the last day our black bear hunters can legally harvest a Maine black bear hunting from a bait site. Spaulding Lake Outfitters also offers Maine black bear hunts with the use of bear hounds. Our clients find this way of hunting for black bear most exciting. The thrill and the rush of listening to good hounds work a bear track cannot be described here, only by partaking in a full out black bear chase. Our hound season starts on September TBD 2024 and runs through October TBD. A unique part of this Maine hound bear hunting season is that it overlaps with bait season the weeks of TBD for 2024 - September 11th through September 16th and September 18th through September 23rd, we offer either bait hunting only hound hunting only, or the option for both adventures. If you want to sit on a black bear bait in the afternoon and wait for a trophy Maine black bear to come in and he doesn't until after legal shooting light, then tomorrow morning you can choose to hunt Maine black bear with the hounds. We can hunt with hounds in the morning and bait hunt in the evening. Keep in mind only one black bear can be harvested.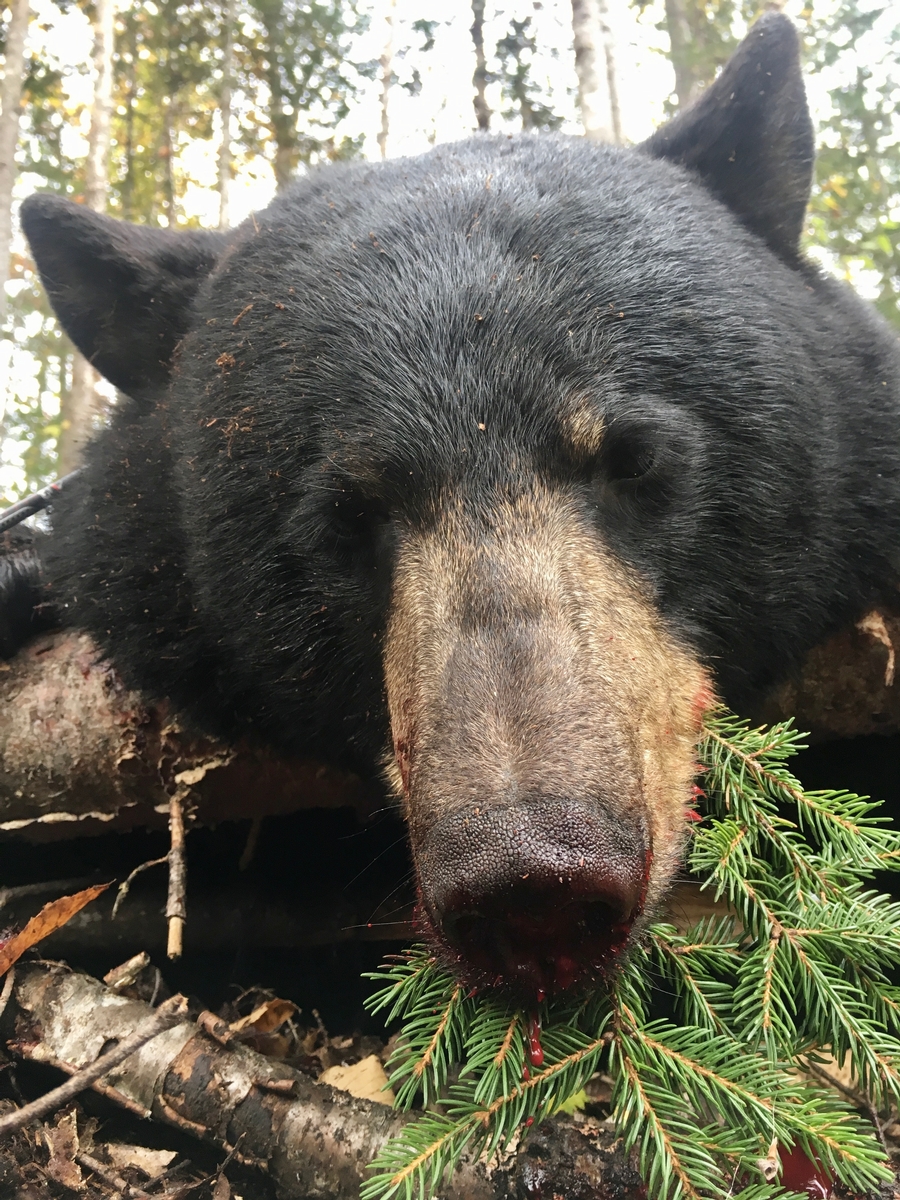 Maine Bear Hunting Season Dates
Maine Black Bear Hunting over Bait 2024


August 28th - September 23rd

TBD for 2024
Maine Black Bear Hunting with Hounds 2024


September 11th - October 27th

TBD for 2024
Maine Black Bear Hunting Combo Bait/ Hounds

September 11th - September 16th / September 18th - September 23

rd

TBD for 2024
At Spaulding Lake Outfitters, we offer a 6 Day HUNT/ 7 NIGHT STAY Maine black bear hunting adventure. We would like to have our clients arrive at the lodge by midafternoon on Sunday where we can spend some time getting to know each other around the campfire. We can also make sure your weapon of choice for your Maine black bear hunt is still as accurate as it was when you left home. The comradery of hunting season is something all of us will treasure through friendships developed that last a lifetime, if we think about how special it is to gather at a sacred place year after year enjoying people with common interests.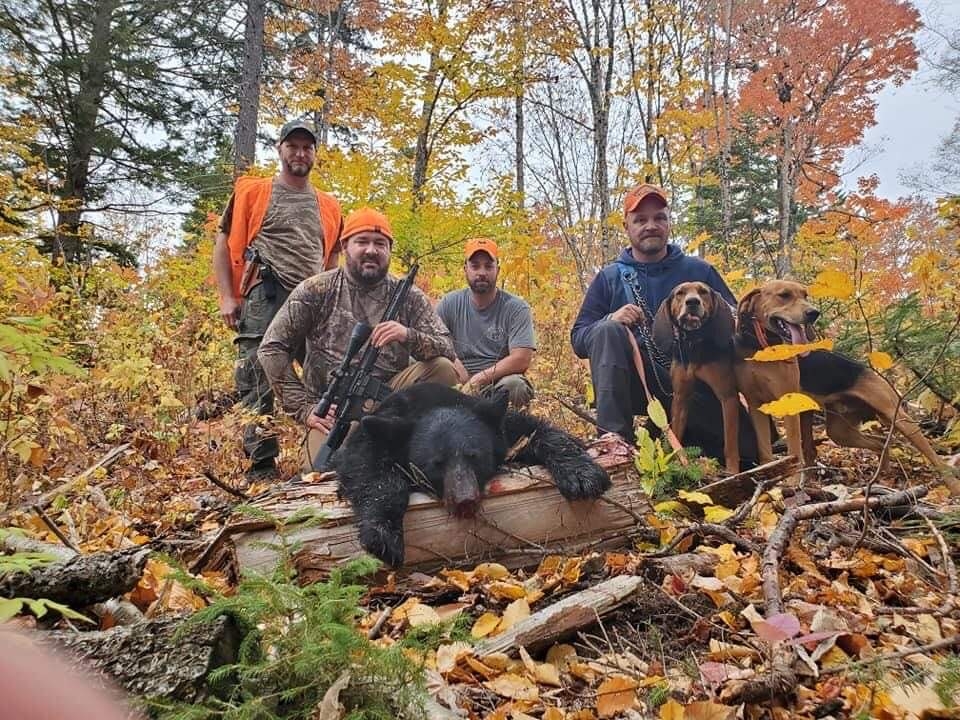 Maine Bear Hunting Guide with Hounds
You have many choices for a weapon for your black bear hunting trip from the traditional rifle to a crossbow. Spaulding Lake Outfitters sets up our Tree stands or ground blinds with each type of hunter in mind. Some sites are set specifically for the archery hunter where another site will set up only for a rifle hunter. We encourage you to hunt your Maine black bear with the weapon of your choice and you would have already relayed your weapon of choice to me on the questionnaire I had sent to you in previous months leading up to your Maine black bear hunt at Spaulding Lake Outfitters. We use the questionnaire as a get to know you before you arrive at Spaulding Lake Outfitters. I will ask questions from choice of weapon to food likes and dislikes to your emergency contact information. We want your stay at Spaulding Lake Outfitters to be as comfortable and relaxing as possible.
On the day of arrival to the lodge we will have a brief Informational and safety meeting about your upcoming Maine black bear hunt. We will talk about Tree stand safety to legal shooting times for the week you will be hunting at Spaulding Lake Outfitters. At Spaulding Lake Outfitters, we pay attention to every detail we can control!!! We can control our famous home cooked meals, we can control the cleanliness of our lodge, cabins, our bath house, our grounds, our pickups will be clean our equipment is top notch and organized. Spaulding Lake Outfitters is Maine's Premier Big Game Outfitter, and we are very proud of that.
Upon harvesting your trophy Maine black bear Spaulding Lake Outfitters, we encourage you to bring coolers large enough to transport your black bear quarters home with you. Spaulding Lake Outfitters also has an excellent butcher and taxidermist nearby to take care of your trophy needs if you so choose.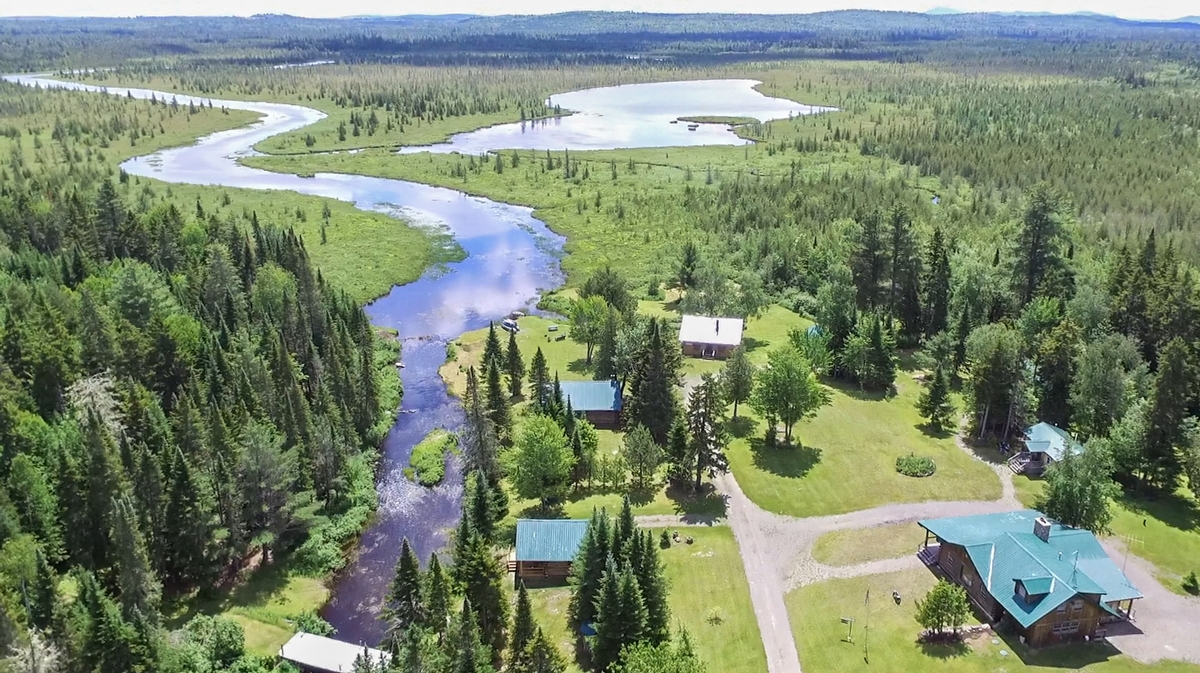 Lodging at Spaulding Lake Outfitters for Your Bear Hunt
Your stay at Spaulding Lake Outfitters (Umcolcus Sporting Camps) during bear season will start with an outstanding Maine themed home cooked meal on Sunday evening. After dinner we will have a short itinerary laid out for your week-long bear hunting adventure. You can then relax near the stream around the campfire, on the porch playing cribbage, dominoes, checkers, cards, or in the lounge area near the enormous stone fireplace watching television or a movie, although we are very remotely located, we are linked up to the rest of the world with a cell phone booster in the lodge, HughesNet internet and Dish Network so we do not miss that game.
In the morning an excellent breakfast will be served with plenty of freshly brewed coffee. Enjoy some fishing or we also offer some early season goose hunting, or just relax until the mid-day meal is served after which we will begin your bear hunting adventure.
Umcolcus Sporting Camps is owned by Spaulding Lake Outfitters and has been since 2018.
Umcolcus Sporting Camps is a part of Maine history Established in 1918 the lodging and home cooked meals are second to none. A quality first class hunt is promised to you Please visit our Umcolcus Sporting Camps website and enjoy see link below: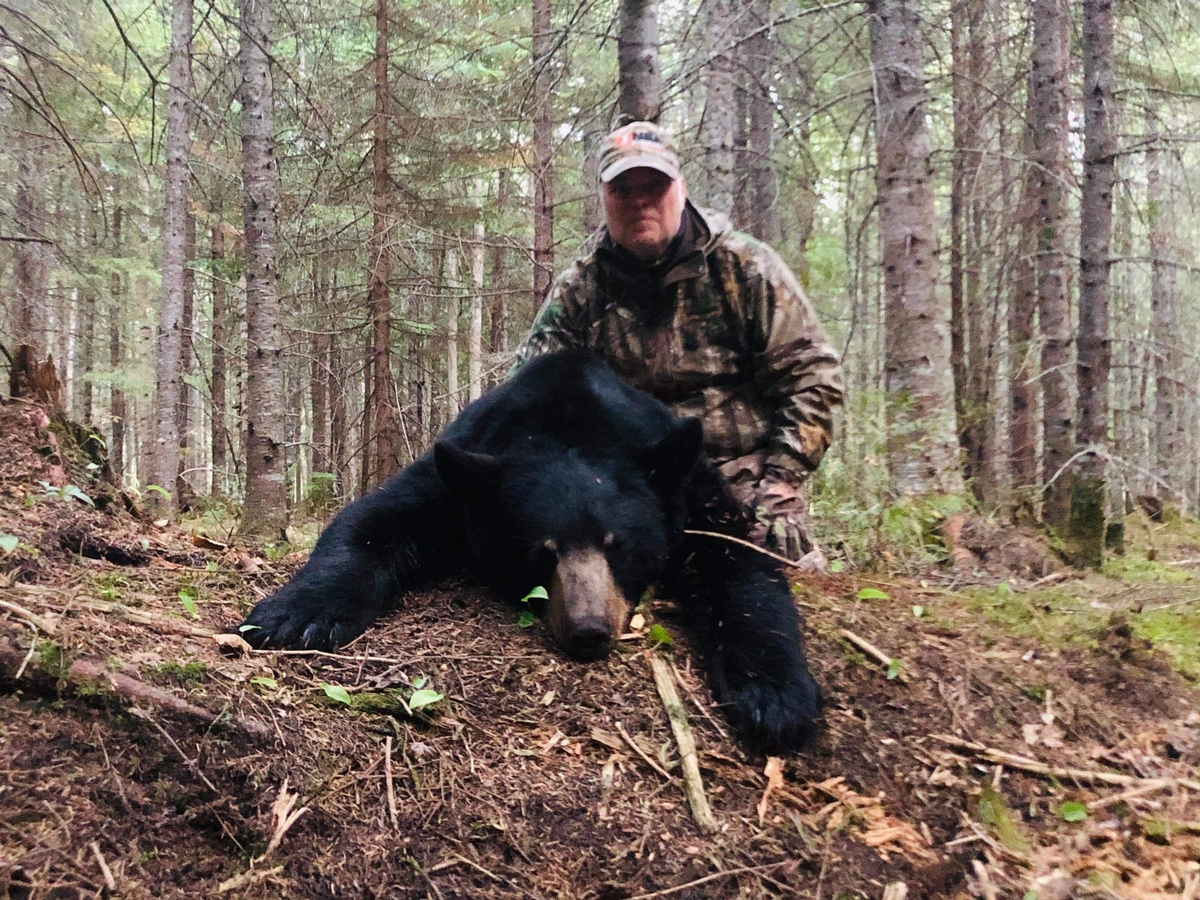 2024 Black Bear Hunting Packages
2024 Bear Hunt over Bait = $3,300.00
2024 Bear Hunt with Hounds = $4,400.00
2024 Combination Bear Hunt -Over Bait and with Hounds = $4,730.00
All Packages include a 6 DAY HUNT/ 7 NIGHT STAY, Comfortable lodging, home cooked meals, a registered Maine Guide and daily transportation to and from the hunting area. Also included are daily gate fees into the North Maine Woods.
Not Included
PLEASE SEE OUR "RATES" PAGE FOR DETAILS REGARDING CANCELATION POLICY!!
Licensing - Woods - Bear Facts - DIFW